LOVE DREAM WITH TELEVISION (Poems)
order here
Marie Sweetman on Love Dream with Television:
"This is a book of poems that makes you want to write poems. And then return to the book to learn more — about language and ideas, about insistence and persistence, about doubt and certainty. Poems of place, people, culture and pop culture. Ensor's poems have an unmistakable and necessary voice that feels at times like a close friend and at others like a detached, objective observer. The most curious thing about this collection is that it's described as a Tucson, AZ, book: Much of it was written while the author lived there and many of its poems take Tucson as a backdrop, either stated or implied. It's also rooted in a specific moment, the poems all hovering around the traumatic election of 2016. Yet the collection feels timeless and placeless and eternal and I want to read it again and again."
Review of Love Dream with Television by Emma Jones at Arkansas International: here
"A Divine Comedy of Experience: Hannah Ensor's Love Dream With Television" review by Irene Cooper at The Rumpus: here
Speedway and Swan episode 40, in which Carmen Giménez Smith reads "Art in a Capitalism" from Love Dream with Television: here
Included in The Rumpus's "What To Read When You Want to Celebrate Pride" roundup: here
BODIES BUILT FOR GAME (Anthology)
Edited by Natalie Diaz; associate editor Hannah Ensor
order here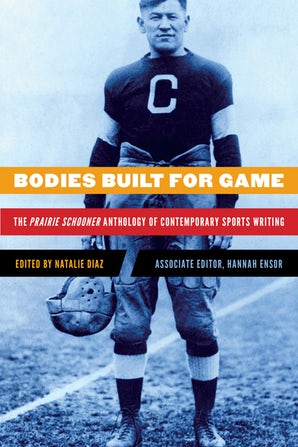 Sport has always been central to the movements of both the nation-state and the people who resist that nation-state. Think of the Roman Colosseum, Jesse Owens's four gold-medal victories in the 1936 Nazi Olympics, Kareem Abdul-Jabbar's protest at the 1968 Olympics, and the fallout Colin Kaepernick suffered as a result of his recent protest on the sidelines of an NFL game. Sport is a place where the body and the mind are the most dangerous because they are allowed to be unified as one energy.
Bodies Built for Game brings together poems, essays, and stories that challenge our traditional ideas of sport and question the power structures that athletics enforce. What is it that drives us to athletics? What is it that makes us break our own bodies or the bodies of others as we root for these unnatural and performed victories? Featuring contributions from a diverse group of writers, including Hanif Abdurraqib, Fatimah Asghar, Reginald Dwayne Betts, Louise Erdrich, Toni Jensen, Ada Limón, Tommy Orange, Claudia Rankine, Danez Smith, and Maya Washington, this book challenges America by questioning its games.