To book Hannah for an upcoming event, reach out via info@hannah-ensor.com.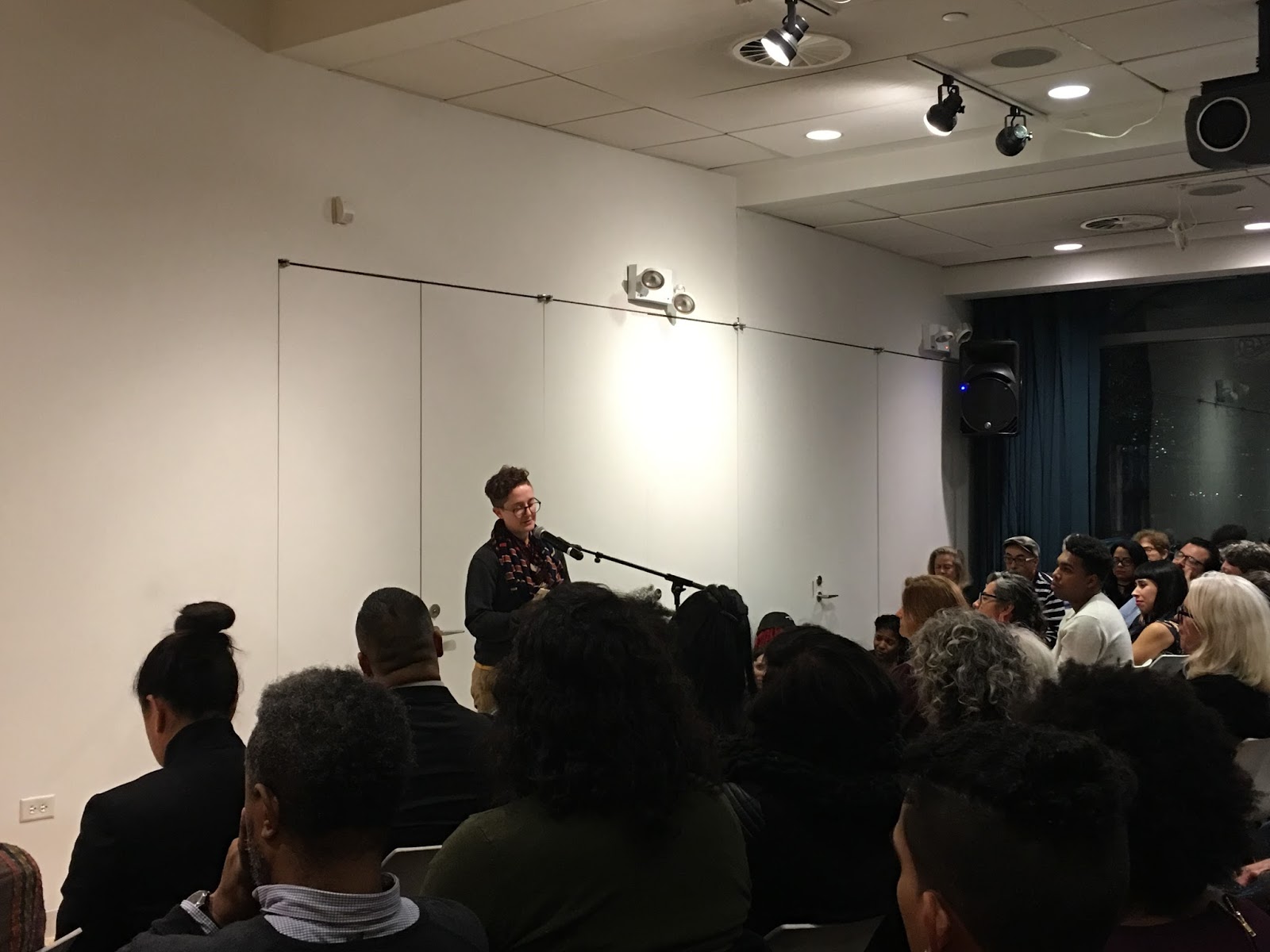 ---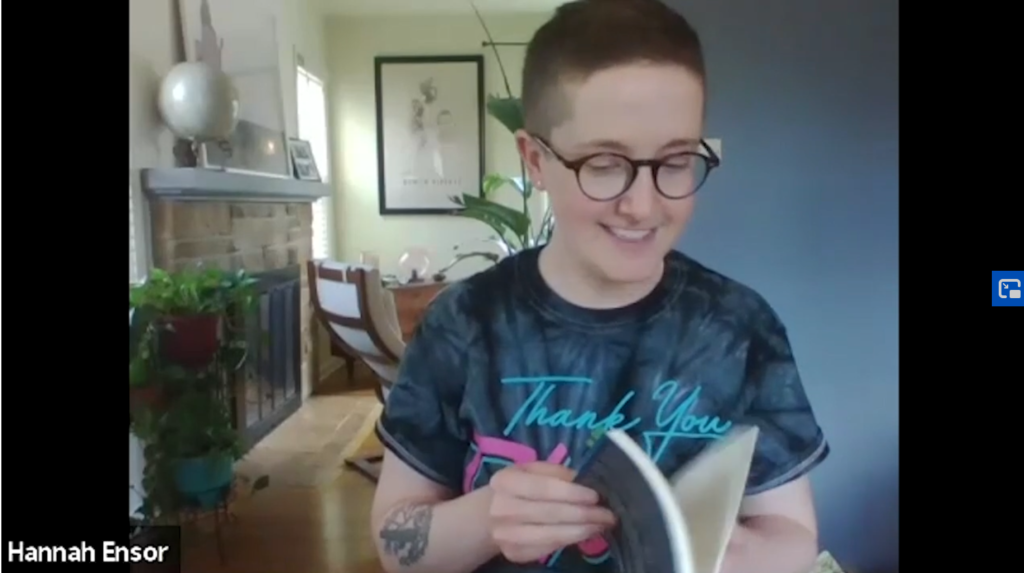 past events:
Sun., April 19, 2020
O, Miami Poetry Festival
Online
More info here
Fri., March 6th, 2020
AWP Home Reading at the Room Project, organized by Tariq Luthun
Detroit, MI
More info here
Tues. April 16, 2019
Prairie Lights Bookstore with Brian Teare
Iowa City, IA
More info here
Sat. March 30, 2019
AWP Offsite Reading (SWxNW)
Featuring: Felicia Zamora, Vickie Vértiz, TC Tolbert, Aisha Sabatini Sloan, Angela Peñaredondo, Kristen Nelson, Farid Matuk, Natalie Lima, Brigitte Lewis, Hannah Ensor, Irene Cooper, Christopher Boucher, and Beth Alvarado. Enjoy Reverend Nat's special edition Glitterati cider featuring nuanced flavors, subtext, and a glittery finish.
Reverend Nat's Hard Cider @ 1813 NE 2nd Ave, Portland, OR
3:00 – 5:00 PM
More info here
Sat. March 30, 2019
Book Signing @ AWP Book Fair
Hannah signs Love Dream with Television at the Noemi Press book table.
Booth #7045
11:00 – noon
Fri. March 29, 2019
co•im•press, Noemi Press, Obsidian & SRPR Reading
co•im•press, Noemi Press, Obsidian: Literature & Arts in the African Diaspora, and SRPR (Spoon River Poetry Review) team up for an evening of poetry and prose at Beulahland, featuring Nick Mansito, Sarah Gzemski, Jeannine Hall Gailey, Jake Syersak, Sasha Banks, Racquel Goodison, Tim Jones-Yelvington, Katherine M. Hedeen, Víctor Rodríguez Núñez, Hannah Ensor, Vanessa Angélica Villareal, Natalie Eilbert, Suzi F. Garcia, and more.
Beulahland, 118 NE 28th Ave., Portland, OR 97232
8:00 PM – 10:00 PM
More info here
Weds. March 27, 2019
So Homo/No FOMO
Cost: $5 donation appreciated
Please join your hosts, TC Tolbert and Kristen E. Nelson for this reading full of queer, trans, and accomplice writers. We will be collecting donations at the door to support the DCBC, no one turned away for lack of funds! Readers include: Andrea Abi-Karam, Sam Ace, manuel arturo abreu, Kay Ulanday Barrett, Cara Benson, Piper Daniels, Hannah Ensor, Raquel Gutiérrez, Zefyr Lisowski, Kristen E. Nelson, Frankie Rollins, Aisha Sabatini Sloan, TC Tolbert, Addie Tsai, and Grace Shuyi Liew. 
14 NE Killingsworth St., Portland, OR 97211
7:00 PM – 9:30 PM
More info here
January 23, 2019
Crazy Wisdom Poetry Circle reading with Suzi F. Garcia
Ann Arbor, MI
More info here
November 5, 2018
Narrow Chimney Reading Series with Kristen E. Nelson
More info here
November 2, 2018
Fair Weather Reading Series with Meg Wade + Shelly Taylor
More info here
October 3, 2018
Literati Bookstore reading
More info here
September 1, 2018
Reading at Kristen E. Nelson's book release party (buy Kristen's book!)
More info here
February 17, 2017
Poetry for the People: A Tucson Poetry Festival Fundraiser
More info here
December 2016
A Celebration of Rigoberto González, hosted by Natalie Diaz and Ada Limón
Poet's House, New York, NY
More info and audio recording here

July 2016
Collaboration Playvacation: a noncredit community course at the UA Poetry Center
More info here 
Summer is a time for vacationing from our selves. In this four-session class (plus two out-of-class gatherings by pairs/groups), we will generate art like we've never generated before—in part because the "we" is no longer us. We will vacation from our notions of single-author-created texts; from "writer's block"; from ego/I conundrums; from the limitations (and, sure) well-worn benefits of having an allegedly singular identity (that is: who we are or aren't, have or haven't been). As a group we will delight in the joy that we can find in work created not by a sole author but instead by the weird spaces that exist in the hyphens/bridges/gaps between us. As we know, it is neither humble nor appropriate to delight in the I! So let's delight in the we. This is a beach party; this is an island vacation. Bring a bunch of blank pages and your most relaxed and open pen.
March 30-April 2, 2016
"UA Poetry Center Presents: Spectacular Poetics & the Poetry of Spectacle."
A panel discussion presented at AWP (Association of Writers and Writing Programs) 2016 Conference
with Terrence Hayes, Kimiko Hahn, Khadijah Queen, and Adrian Matejka
Los Angeles, CA
If poetry engages with spectacle, why, and in what ways? In this panel, we address increasingly ubiquitous confluences of poetics and spectacle. Is the poet's task to call attention to bright screens, to celebrity culture, to the many public-facing pleasures and pains of the 21st century? Do poets use spectacle (their understanding of audience, attention, flashing lights) to their advantage? When it comes to spectacle, do we want today's poets to decry it? reveal it? hold it up? celebrate it?
January 2016
"Fair Weather Reading Series"
Reading with Joshua Jennifer Espinoza
Casa Libre en la Solana, Tucson, AZ
November 11, 2015
"Reclaiming Discourses: Jewish Writers Today"
Talk and poetry reading; part 3 of a 5-part series, also featuring Laynie Browne, Samuel Ace, Kate Bernheimer, and Rachel Zucker. For more information, click here.
Jewish History Museum, Tucson, AZ
October 10 – 12, 2015
"Writing and Being Collaborative Transformation"
A panel discussion presented at [DIS]EMBODIED POETICS CONFERENCE: WRITING/THINKING/BEING
with Laura Wetherington and Jill Darling
at the Jack Kerouac School of Disembodied Poetics at Naropa University in Boulder, CO
March 1, 2014 through March 8, 2014
"Writing Our Way Into Costa Rica"
Sarapiquí, Costa Rica
February 28, 2014
"Using the Journal in the Classroom: Mess, Wildness, and New Sight"
A panel discussion presented at AWP (Association of Writers and Writing Programs) 2014 Conference
with Nels Christensen, Ryan Walsh, Nick Harp, and Laura Wetherington
Seattle, WA
July 18, 2013
"To Witness; or, What We Can't Explain Away: on poems and sports"
University of Arizona Poetry Center, a Summer Social talk
Tucson, AZ